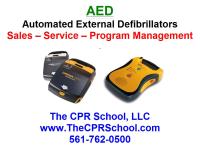 What is an AED and how does it work?
An Automated External Defibrillator or AED is a portable, battery operated electronic device about the size of a laptop computer. The AED automatically diagnoses the potentially life threatening cardiac arrhythmias of ventricular fibrillation and ventricular tachycardia in a victim and is able to treat the patient by an electrical shock which stops the arrhythmia, allowing the heart to re-establish an effective rhythm. AEDs are designed to be simple so that anyone can use one. So simple that I often start my classes by selecting someone from the class that has never seen an AED and I ask them to demonstrate how to use an AED by following the AEDs voice instructions. To date, the youngest person to effectively demonstrate the AED in one of my classes was 9 years old.

Why should I buy an AED?
In June of 2009 Michael Jackson died from Sudden Cardiac Arrest in June of 2008 Tim Russert of NBC's Meet The Press also died from Sudden Cardiac Arrest. According to the American Heart Association, sudden cardiac arrest claims about 340,000 lives each year – or around 930 every day in the United States. Sudden cardiac arrest, which is the leading cause of death in the United States kills more people than breast cancer, lung cancer, and AIDS combined. Currently 95 percent of all cardiac arrest victims die

How much does an Automated External Defibrillator cost?
AEDs or Automated External Defibrillators range in price from about $1200 up to about $1700. In addition to the AED you will also want a wall mounted alarmed cabinet to prevent theft and to make the AED easy to find in the event of an emergency. AED cabinets range from $175 to $400 depending on the quality of the cabinet. Buying a used AED or buying an AED from a salesperson that has little or no knowledge about the AED is never a good idea. These are life saving devices – if they fail, your patient dies. Call 877-6-AED-CPR (877-623-3277) to discuss our AED Packages.

What do you mean by AED package? Keep in mind you are buying a life saving device so it is very important you have all of the facts and understand what you are purchasing. Our AED package will include the Automated External Defibrillator (AED), Medical Authorization (prescription), rescue ready kit with razor, trauma shears, mask and gloves, AED alarmed cabinet, sign for above the AED and CPR AED training for your staff.

Who should purchase an AED?
Automated External Defibrillators (AEDs) are becoming more popular and can be found in many public places. FAA regulations require commercial aircraft that fly passengers to have AEDs on board. In Florida dental offices are required by law to have AEDs as are public schools. You will also find AEDs in many restaurants, health clubs, hotels, casinos, cruise ships, sports stadiums, malls, condo and homeowners associations, movie theaters and a variety of other locations.

What are the benefits of owning an AED?
Without the AED the chances of surviving Sudden Cardiac Arrest (SCA) outside of a hospital setting are very small – less than 5%. However, if the AED is applied to the victim quickly their odds increase to about 70% - 90%.

Keith Murray, owner of The CPR School in Jupiter Florida adds, "The AED that you purchase might save your life. Make certain that everyone who as access to the AED has been properly trained by a skilled instructor that has actually used CPR and AEDs in real life saving situations." Murray, a Florida firefighter EMT recently used an AED in the Atlanta airport to save a travelers life. The victim went into cardiac arrest, one of the passengers started CPR compressions, another rescue breathing, and Murray turned on the Medtronic Physio Control AED, applied the pads to the patients chest, pressed the shock button and it worked. The patient started breathing and is alive today because of the quick use of an AED.

To learn more about Automated External Defibrillator AED Sales, Consulting and CPR AED training, please call Keith Murray at 561-762-0500.

Polk County Florida AED Defibrillator Sales & CPR AED Training - City of Auburndale, City of Bartow, City of Davenport, Town of Dundee, City of Eagle Lake, City of Fort Meade, City of Frostproof, City of Haines City, Village of Highland Park, Town of Hillcrest Heights, City of Lake Alfred, Town of Lake Hamilton, City of Lakeland, City of Lake Wales, City of Mulberry, Town of Polk City, City of Winter Haven
Lee County Florida AED Defibrillator Sales & CPR AED Training - Bonita Springs, Cape Coral, Fort Myers, Fort Myers Beach, Sanibel
Hendry County Florida AED Defibrillator Sales & CPR AED Training - Clewiston , Harlem, LaBelle, Port La Belle, Felda.
Collier County Florida AED Defibrillator Sales & CPR AED Training - Everglades City, Marco Island, Naples
Charlotte County Florida AED Defibrillator Sales & CPR AED Training – Boca Grande, Cape Haze, Charlotte Harbor, Charlotte Park, Cleveland, Deep Creek, Englewood, Grove City, Harbour Heights, Manasota Key, Murdock, Placida, Port Charlotte, Punta Gorda, Rotonda, Solana
Sarasota County Florida AED Defibrillator Sales & CPR AED Training – Sarasota, North Port, Venice, Longboat Key
Manatee County Florida AED Defibrillator Sales & CPR AED Training - Anna Maria, Bradenton, Bradenton Beach, Holmes Beach, Longboat Key, Palmetto
Hillsborough County Florida AED Defibrillator Sales & CPR AED Training - Plant City, Tampa, Temple Terrace
Pinellas County Florida AED Defibrillator Sales & CPR AED Training- Belleair, Belleair Beach, Belleair Bluffs, Belleair Shore, Clearwater, Dunedin, Gulfport, Indian Rocks Beach, Indian Shores, Kenneth City , Largo, Madeira Beach, North Redington Beach , Oldsmar, Pinellas Park , Redington Beach , Redington Shores, Safety Harbor , Seminole, South Pasadena, St. Pete Beach , St. Petersburg, Tarpon Springs, Treasure Island
Pasco County Florida AED Defibrillator Sales & CPR AED Training- City of Dade City, City of New Port Richey City of Port Richey, City of San Antonio, Town of St. Leo, City of Zephyrhills
Monroe County Florida AED Defibrillator Sales & CPR AED Training - Key West, Marathon, Key Colony Beach, Layton, Islamorada, Stock Island, Big Coppitt Key, Cudjoe Key, Big Pine Key, Duck Key, Tavernier, Key Largo, North Key Largo, Flamingo, Bay Point, Sugarloaf Shores