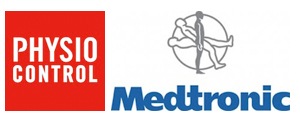 With over 40 years of being an industry leader and pioneer in the medical technologies industry, Medtronic has forever stayed true to its original mission: to alleviate pain, restore health, and extend the lives of people worldwide. Altogether saving lives of thousands of people all over the globe and with over 38,000 employees backing their honorable efforts, Medtronic has stayed on the forefront since its inception and continues to be an industry leader.As a result, Medtronic's Physio-Control LIFEPAK® line of AEDs is often the most popular among buyers, both within the civilian and professional markets. The advantages of purchasing a Medtronic defibrillator are numerous and any Medtronic Physio-Control AED is one that you can rest assured is a fantastic and reliable defibrillator that provides you with the right features needed to address sudden cardiac arrest.

With Medtronic, you have no need to second-guess. You're receiving the best of the best with a LIFEPAK AED. To list some of the key advantages, Medtronic is here to stay – with smaller and newer companies, there is always the risk of one closing their doors, in turn making your defibrillator now non-FDA compliant and the need for a defibrillator once again a matter to concern. Not only would this create a time-consuming issue of utmost importance, it also creates an issue that could very well be incredibly expensive. This has happened before.Another advantage that makes Medtronic often the preferred choice among healthcare and rescue professionals: its 360-Joule therapy (the industry standard is around 150). Often a contention of debate, the FDA has recently created a study of the most effective recitation therapy, in particular examining the success found with administering 360 Joules. As many healthcare professionals will attest, 360 joules is their preferred therapy when addressing victims of sudden cardiac arrest, both in and out of hospitals.

The Medtronic AEDs are our number one seller at The CPR School and we recommend their LIFEPAK defibrillator line with our strongest recommendation possible. You're purchasing from a company that has over a 35% share of the defibrillator market, is the manufacturer most often preferred by rescue professionals (call your local fire department and our bet is that they're using a Medtronic LIFEPAK® AED), and one that makes devices with all of the features you've come to expect from a next-generation AED.

As a side note - The President of The CPR School, Keith Murray actually used a Medtronic Physio-Control LIFEPAK CRPlus AED to save a mans life in the Atlanta Georgia airport.

The CPR School, LLC is your source for Medtronic Physio-Control LIFEPAK AED batteries and AED electrode pads. Choose pads and batteries for Physio-Control LIFEPAK 500, LIFEPAK 1000, CR Plus and Express AED's. We sell both Adult and Pediatric AED pads for your Physio-Control LIFEPAK automated external defibrillator along with replacement batteries. Its a good idea to have a spare battery and pads available for your Medtronic LIFEPAK defibrillators.

Should my company purchase an AED – Automated External Defibrillator?
My answer is always "Yes". According to OSHA 13% of all workplace fatalities result from sudden cardiac arrest. According to the American Heart Association, sudden cardiac arrest claims about 340,000 lives each year – or around 1,000 every day in the United States. Sudden cardiac arrest, which is the leading cause of death in the United States. Cardiac arrest kills more people than breast cancer, lung cancer, and AIDS combined. Currently 95 percent of all cardiac arrest victims die.

Simply put, Automated External Defibrillators (AEDs) save lives. Would you spend $2,000 if it saved an employee? The answer is obviously yes. You have smoke detectors, fire extinguishers, security cameras and other systems to save property why not put something in place that saves lives. Think about this, how many fire extinguishers does your company own? How many AEDs? Fire extinguishers are designed to save property whereas an AED saves lives. Life safety is far more important than saving property.

How much does an Automated External Defibrillator cost?
Recently I delivered a Physio Control CRPlus AED in a waterproof carry case to a business who's employees work with and around electricity. They wanted to make certain if an employee were accidentally shocked they would have the training and equipment to save their life. The cost of the AED and waterproof case, delivered was just under $1,900. There were cheaper options but this customer wanted the best fully automatic AED with escalating energy and did not want to cut corners on safety.

What does OSHA indicate about AEDs?
"Because the use of Automated External Defibrillators (AEDs) can save the lives of workers who experience cardiac arrest while on the job, OSHA today encouraged employers to consider making this equipment available in their workplace." US Department of Labor, Office of Public Affairs, Dec. 17, 2001

What about Federal Laws regarding the use of AEDs?
The Cardiac Arrest Survival Act (CASA) of 2000 is our nation's first legislation recognizing the lifesaving role played by automated external defibrillators (AEDs). The law highlights the need to make AEDs accessible to anyone who has had proper training, not just professional medical personnel. The law protects trained AED users from liability, and also protects any person who has maintained the device, provided training, tested the device or acquired it. The law also augments existing state "Good Samaritan" laws by ensuring federal liability protection for trained users and purchasers of AEDs.

What type of training is required to use an AED?
AEDs are designed to be very simple to use. However, this is a race against time. For every minute we delay shocking our victim their chance of survival drops 10%. Training increases speed, confidence and efficiency. I suggest working with a professional trainer that has real life experience using CPR and AEDs on real people. An instructor that can work with your staff to answer any and all questions. Someone that can create realistic training scenarios to use during class and most importantly someone that can make your staff comfortable using their new skills. You don't want an instructor that scares or confuses them. Look for a full time, insured professional that knows AEDs, CPR and First Aid.

My company already owns several AEDs. Does The CPR School test and inspect AEDs?
Yes, we offer FREE AED inspections with each onsite training class we offer at your business. Much like your fire extinguishers defibrillators (AEDs) should be inspected on a regular basis. Many companies charge a lot of money for this service however we provide free AED inspections with each CPR AED First Aid Safety class we hold at your business.

We already own an AED – do you sell batteries and electrode pads?
Yes, if your AED needs a new battery or AED electrode pads we sell these. We can also test and inspect your AED, upgrade your AED software to the new AHA guidelines and if you wish to purchase a new make and model AED you can trade the old AED in for a new one.

We sell Medtronic Physio-Control AED batteries and AED electrodes pads for you AED. Medtronic Physio Control CR Plus Charge-Pak 3201616-002, Medronic Physio Control Battery Pak 3005380-026,

My company already owns several older low energy AEDs. Does The CPR School offer us credit for trade ins?
Yes, you can trade in your older AED and apply it as credit towards the purchase of any new model AED from The CPR School. Upgrade to the latest and best technology in AEDs. Call The CPR School at 877-6-AED-CPR to get the latest trade in price. Once we receive your AEDs a credit will be applied to your purchase of a new Medtronic Physio Control AED.

What are the odds of my company using an AED?
In August of 2003, the American College of Occupational and Environmental Medicine (ACOEM) conducted a survey. Of the 400 members surveyed 34% that implemented an AED program used the AED at least once to help save a life. Of those people in cardiac arrest, 66% were revived by the AED.

Keith Murray, owner of The CPR School, LLC is a licensed Florida EMT Firefighter who hold a masters degree and both the Florida 220 and 215 insurance licenses. Mr. Murray consults with Florida businesses and risk and safety managers regarding Automated External Defibrillators (AED), CPR AED and First Aid Safety Training Classes and other risk management issues.

Contact The CPR School and let us help you with your safety program. AED Sales and Service as well as onsite CPR, AED and OSHA First Aid Safety training classes at your Florida business. Contact The CPR School at 877-6-AED-CPR or 877-623-3277.